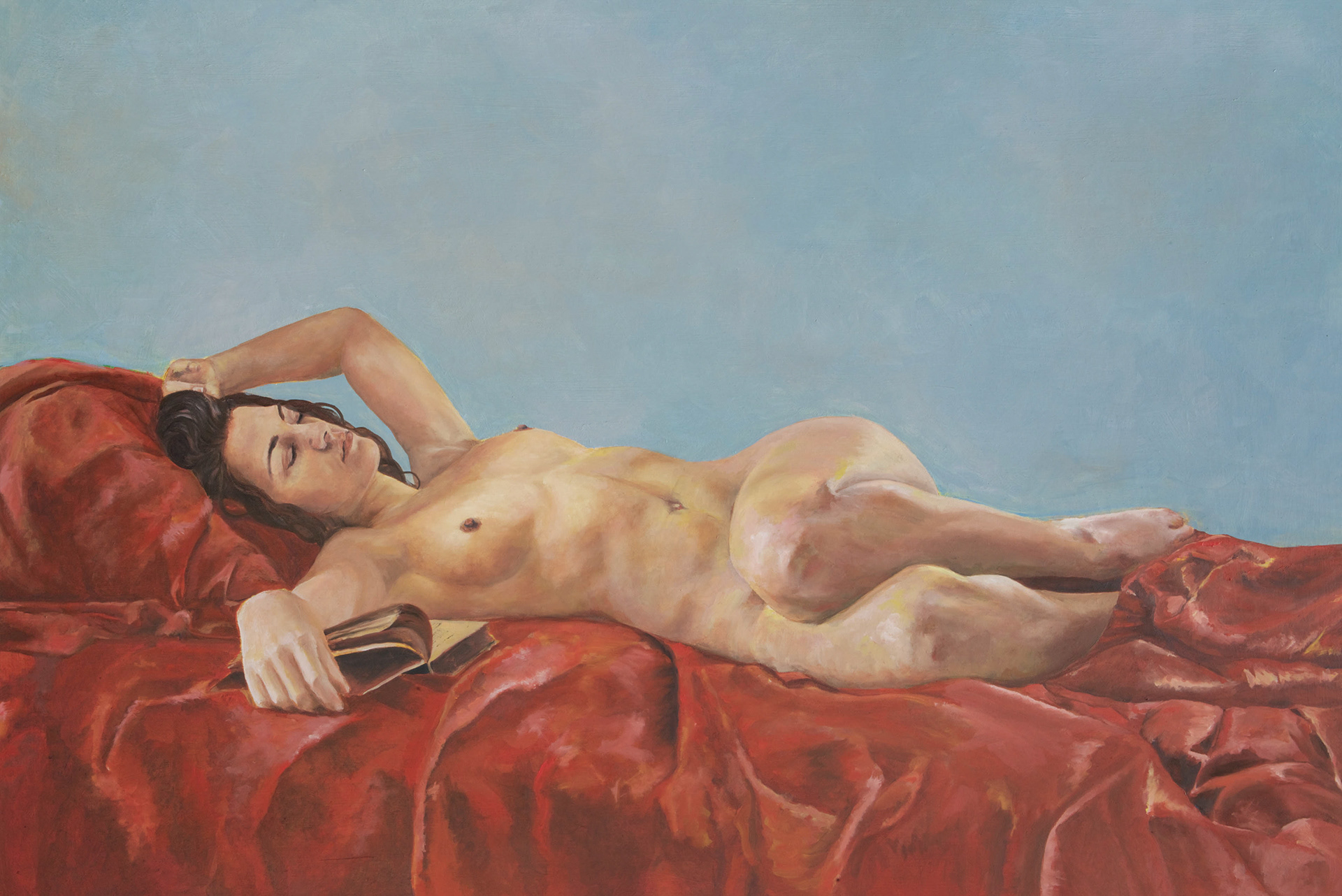 Slut grace I -
Gatta morta
2015
Oil on MDF
110*75 cm

Reading as an act of consciousness-raising


Following on from Stefan Bollmann's idea
that
"Women who read are dangerous"
, the book in the painting symbolises the female quest for freedom and intimacy. As well as an escape from social mores, it is also a
pretext for displaying lasciviousness: that mix of laziness and sensuality. When I chose to paint this old edition of
Tristan and Isolde
, I had this quote from Montesquieu in my head:
"For me, studying always was the best antidote to life's challenges. Never did I have a worry that an hour of reading did not soothe."
This sentence inspired many happy hours of reading, and my painting is a testament to Montesquieu's timeless observation.

Unveiled
Struck by the statuesque forms of Valloton's women, meticulously painted on fake backgrounds, I wanted to train in the academic genre. The daring title contrasts with the traditional aesthetics in order to question its contemporaneity. The posture balances between decency and indecency. Similarities can be found with Cabanel's
The Birth of Venus
, but they are significant differences. If Cabanel's Venus is hiding her face, my subject is displaying hers. The posture is also torn in a double movement: closed legs are opposed to the openness of the breast. This double move induces two ways of reading: from left to right and from right to left.
From left to right, one can see a
gattamorta
, a teaser who likes to appeal and then plays dumb, acts like dead, retreats and leave the suitor unsatisfied. The
gattamorta
's logic follows the idea that if the man is caught closed legs, why opening them? Accusing women of perversity and cursing them, writers have made their lives a misery in literature. This painting praises them with ironically offering the public a new unreachable target.
On the contrary, from right to left, from closed legs to opened breast, the teaser pretends she is shy, though her relaxed face is not ingenuous at all and highlights a terrible self-confidence: she knows and control the seduction game. This art piece can thus be read as a proposition on emancipation. The image shows a woman who masters the situation, her identity and her body, because she has studied hard, she has read a lot and experienced herself many stories she has read about.

Poetess of seduction
The title "Slut Grace" is an answer to the slang "Slutshame" which is a form of verbal harassment towards women who have sex a lot and enjoy it, taking for granted that it is a bad thing the girl should be ashamed of. "Grace" is then an antonym for "shame" and rejects this sexist insult. If "grace" is put next to "slut", it is in order to call out the status of nudity in our society. Is nudity a synonym for impudicity in painting?
History of art answered no, but the majority of models were anonymous and unknown: they were easy to reify. But here, the issue is different because it is a self-portrait. How shall one look at the nudity of someone who claims to be an object? What judgment are we authorized to give on somebody else's sexuality? Should we be more allowed once we have an access to its nudity and sexual identity? In place of an answer, going beyond the strict opposition between decency and indecency, by the means of the two ways of reading, the painting suggests to draw a difference between nudity and intimacy. The naked body is to be considered as graceful as a plastic object and the women as a
sub-ject
of seduction, but not as an
ob-ject
of desire.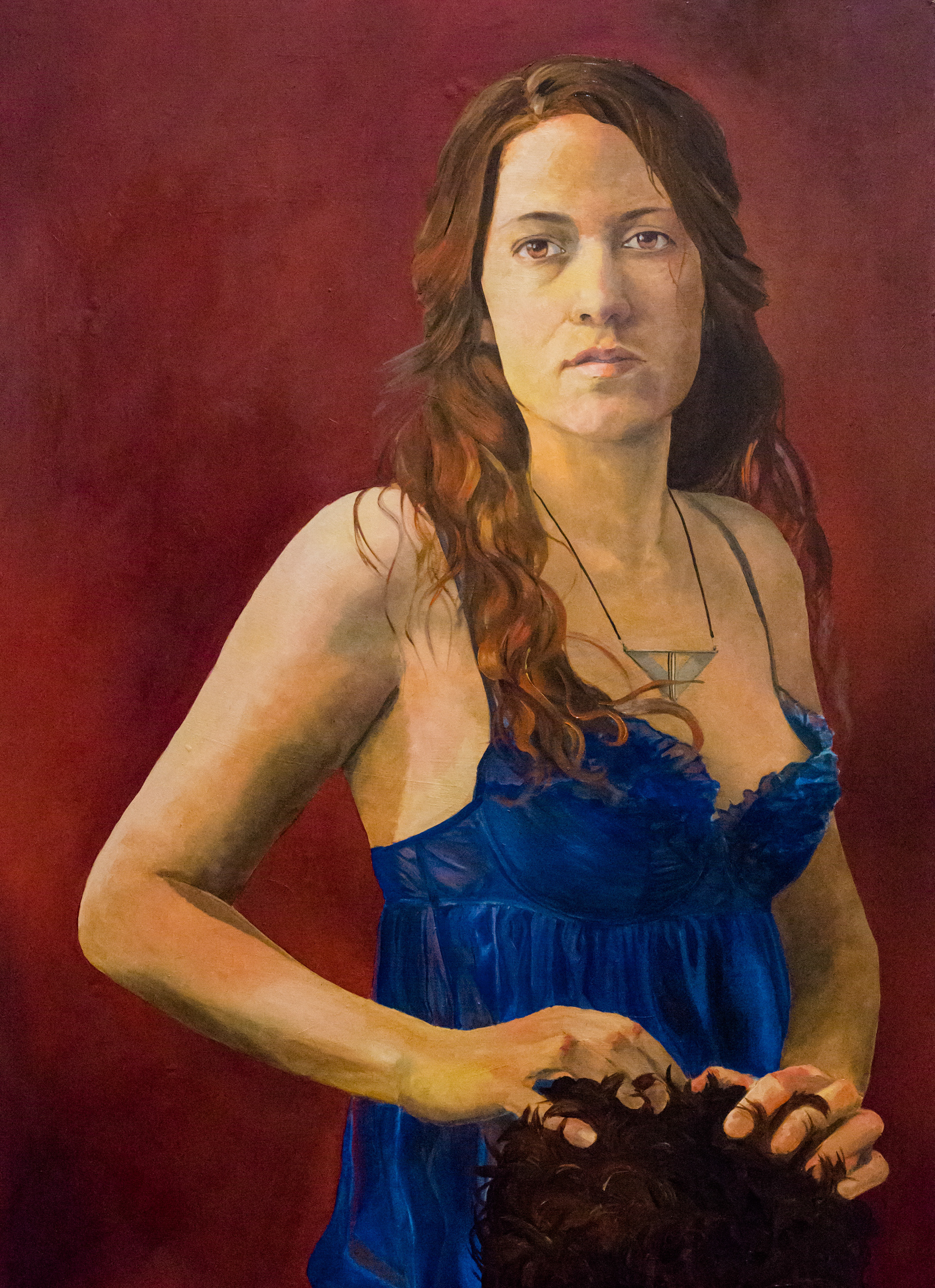 Slut Grace II -
Judith
(work in progress)
2016
Oil on MDF
75*100 cm
A seduction game without limits


When Holophernes was threatening to enslave the Jews or to kill them if they resisted, Judith, who is a widow, decides to seduce him in his tent and when he is drunk, lying, maybe sleeping, maybe not, she cuts his head off, with his own sword. When this happens, Judith and Holophernes have been alone in the tent for a while: no witness to know if how far the seduction game went. Though, when Judith comes back to her people, she feels the need to claim that she was not sinful, but we only have a reported speech, and not a third person narrator to warrant the truth of her speech. As every speech remains suspicious, the text is ambiguous. Strangely enough in his- tory of art, Judith is mostly represented with her maid, which avoids doubting about how far she led the seduction game. As a consequence, I represented my Judith alone, with no maid. This is the moment right after the head is cut.

A womAn taking over a male-dominated activity: violence


This story deals with lies & seduction: does one goal justifies the means? It also deals with an inversion of the values: a woman is supposed to give life, not death; to be dominated, not dominant. Judith seduces a man and then kills him coldly. Not only does not she need him, but she can be stronger anytime. The man, on the other hand, wanted Judith in his tent, otherwise, as he says, the other men would have made fun of him not to have been able to have sex with her. So, he had objectified her, before she would have objectified him by using him and then killing him. Judith also symbolizes castration and frustration. She is a
femme fatale
, but here,
fatal
has to be understood in its first meaning: leading to death.